Walter Wren, D.D.S.
Dr. Walter Wren received his D.D.S. from University of Illinois at Chicago College of Dentistry in 1985. Shortly after, he began practicing and also became an instructor at the dental school. While his practice grew, he reconnected with Dr. Eber and the two began practicing at the same clinic. Over the years, Dr. Wren has grown his practice from a small practice to one that is recognized by many in the community.
What Dr. Wren enjoys most about being a dentist is the patient interaction he has every day. He believes variety in his patients is very important, and he enjoys getting to know each patient as an individual, learning their stories and helping them establish good oral health habits. On the south side of Chicago the population is very diverse, and Dr. Wren thoroughly enjoys this aspect of his practice. He feels fortunate that the community provides him the opportunity to work with people from all different lifestyles, ethnicities.
Dr. Wren grew up in St. John of Fisher parish. When he's not in the office, he enjoys golfing as much as he can.

Meet Dr. Wren's Hygienist: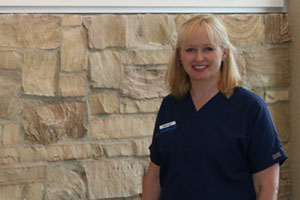 Anne Gallagher, R.D.H.
Anne Gallagher has been in the dental field for over 30 years, and has been a hygienist for over 18. She enjoys interacting with her patients every day and she believes they are the best aspect of her career. She enjoys educating patients of all ages on oral hygiene so that their mouth can help contribute to their overall health. Anne is a dedicated hygienist who will help keep you in the best health possible while doing so in a comfortable environment!