Dr. Eber was a third-year dental student at the University of Illinois at Chicago when he met Dr. Wren. Dr. Wren was an instructor at the school while he also worked at a small dental office on the south side. Once Dr. Eber graduated, he began practicing at Dr. Wren's clinic and they began their partnership together. Over the past 30 years, Dr. Eber has helped expand the practice to one that's recognized by the community as a caring, affordable, and comprehensive dental clinic.
Dr. Eber says his favorite part about dentistry is relieving patients' pain and making them feel better. He enjoys getting to know each individual patient in order to address their concerns and needs while also easing any fears they may have of dental procedures.

Meet Dr. Eber's Hygienist: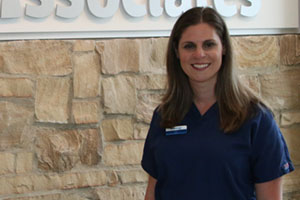 Mary O'Malley, R.D.H.
Mary has over 18 years of experience as a hygienist, and over 20 years total in the dental field! Born and raised on the North side of Chicago, she got started in the dental field at a young age and has always felt a unique tie to dentistry and patients. Her favorite part of an appointment is the initial half hour where she can sit and talk with her patients and get to know them before and during their teeth cleaning. Mary is an enthusiastic hygienist who is eager to help keep you and your teeth in the best shape possible!